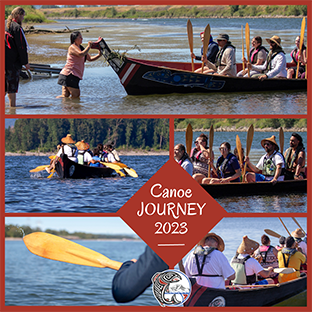 The Cowlitz Indian Tribe Canoe Family Journey.
After a long absence due to the COVID-19 pandemic, we are thrilled that Canoe Journey returned this year. The Cowlitz Canoe Family spent months preparing for the long paddle to Muckleshoot, holding canoe pulls and practicing protocol before departing in late July.
"Canoe Journey teaches us about prevention, pulling together and supporting each other and not abusing ourselves or others, having to be flexible...It's great for the youth," Canoe Family Chair Clay Koch told KLOG reporter Katie Nelson in an interview. "We're growing a generation of just wonderful, beautiful people with solid morals."
 Click here for the interview with Canoe Chair Clay Koch
The Cowlitz Canoe Family began the journey landing in Vancouver with the Warm Springs Tribe, Grande Rhonde, and Quinault, followed by Pekin Ferry, Samish, Swinomish, Cama Beach, Tulalip, and Suquamish before the final landing in Muckleshoot.
"This canoe journey is a spiritual journey. It is alcohol and drug free, it is a mental health empowerment journey," said General Council Chairwoman Patty Kinswa-Gaiser in an interview with KLOG's Katie Nelson. "There's been several times whales swam with the canoes…they know, and they come and swim with the pullers."
Click here for the interview with Chairwoman Kinswa-Gaiser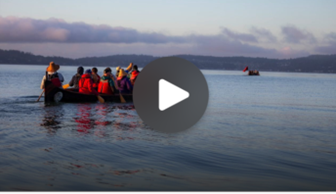 Náxʷɬqʷul'as (thank you) to Cowlitz Tribal members and community members who came out to welcome the canoe at all of their stops and to the Tribes who allowed the canoe family to land, share protocol and meals, and camp on their homelands during the journey. We would also like to thank our photographer, Cowlitz Tribal member and canoe puller Derick Wright, for providing beautiful photos of the journey.
All these fabulous photos are by Cowlitz member and Canoe puller Derick Wright!