Social Services
Elders & Senior Nutrition Program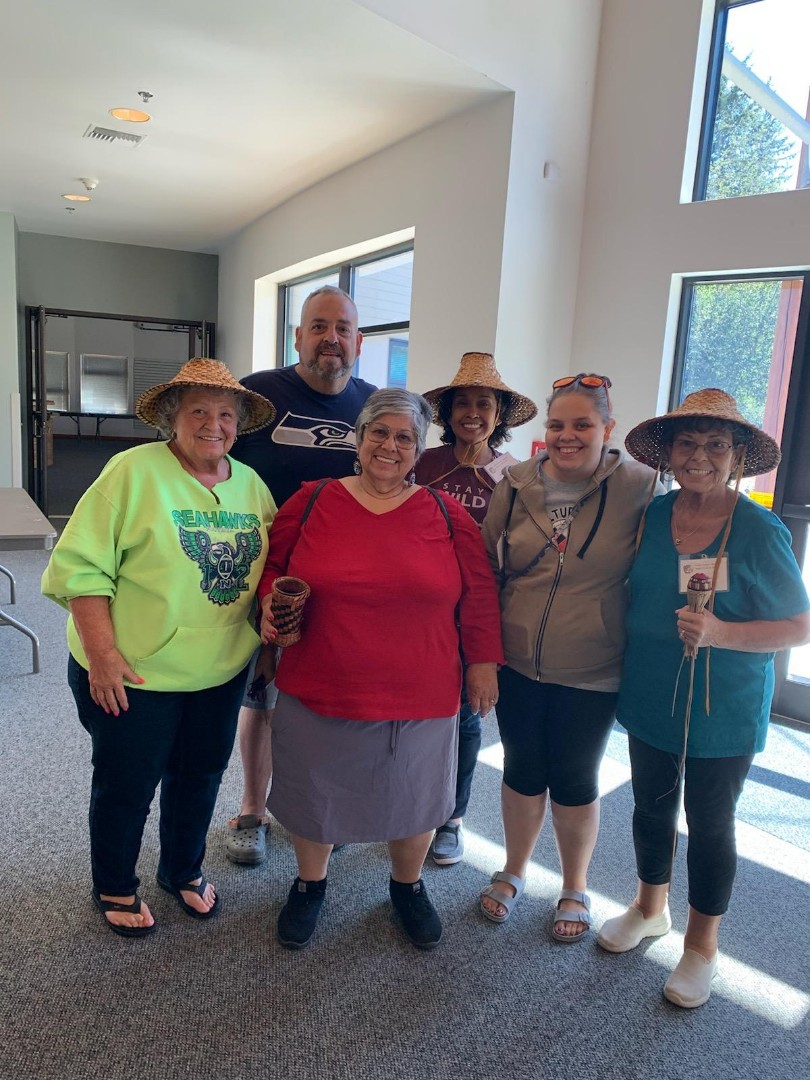 Mission/Vision:
To assist Tribal Elders to live in the least restrictive, most appropriate environment possible. We work hand in hand with our intertribal departments to bring wellness into our elders lives and provide culturally relevant activities to our Elders and tribe. We do this to assist our Elders on their journey through aging.
Services & Programs:
Elders Lunch and luncheons : Meals are Monday thru Thursday, unless stated otherwise on the monthly meal calendar. Members of federally recognized tribes over the age of 60 eat for free; all others must pay a fee of $5 per meal, and all are welcome and invited! Please call the Kitchen at 360-864-7003, before 10:00 AM to reserve a meal!
Frozen salmon fillets for delivery or mail out (sourced through NRD)
Home bound meal delivery service
Respite care assistance and light chore services : The Elders program has funding to support respite caregivers within a service area, please call our Elder Care Advocate at (360)506-1260 for more information.
Medical transportation for appointments and services : We ask that our Elders first call our Tribal Transportation service at (360)262-8585 first. They are catered to this and have a wheelchair accessible van to transport those who need more assistance with mobility. Currently, we are unable to provide this kind of support. If you do not require an ADA ride, our staff can drive you to a medical appointment. We ask at least three-day notice in advance to schedule a ride. Our staff can also pickup your medical prescriptions and deliver them to you. Please call our Elder Care Advocate at (360)506-1260 for more information.
Prescription pick-up and delivery
Culturally relevant activities and events
Wellness activities and seminars
Elders' day trips and overnight stays!
Care Package: Care packages consist of a small care box filled with some everyday staples, (garden fresh when available) vegetables, fruit, milk, bread, juice, tea, cereal, toilet paper, paper towels, and frozen meals. This may vary based upon our inventory, as we rely heavily on grant funding and charitable donations. Must be American Indian / Alaska Native / Hawaiian Native or spouse to receive a care package.
Assistance and Resources: Our Elder Care Advocate can provide varying support through resources and referral assistance. Helping make calls for appointments, scheduling appointments and reminders, transportation to appointments, special long-distance transport for appointments, support by being a care person for appointments – helping to hear and communicate with doctor, etc.
We are always trying to improve our program, if you have suggestions, please let us know and we can see what we can do. We are a Tribally and Grant Funded program and rely on this funding to keep our programs running and thriving. Please, if you are well enough, come join us!
FREQUENTLY ASKED QUESTIONS
Have questions about the program?
Must be a Cowlitz Elder (you must be 60 years or older to be an Elder), or spouse to receive services. Congregate meals and lunches are free to members of federally recognized tribes age 60 and over, and their spouse. Family members, community, and staff are welcome and encouraged to join our congregate meals at a cost to them of $5 per person.
Our Locations
Toledo Office
125 Spencer Rd, Toledo, WA, 98591
Phone:
Program Manager Deb Mizner (360)864-7006 or (360)600-4552
Elder Care Advocate Trynity Manning (360)506-1260
Fish distributor / Cook Brandy Manning (360) 324-9917
Cook Tiffany Masters(360)864-7003
Driver / Caregiver Support Jill Kelley (360)864-7003
Hours: Monday-Friday, 7:00am to 2:00pm
Contact