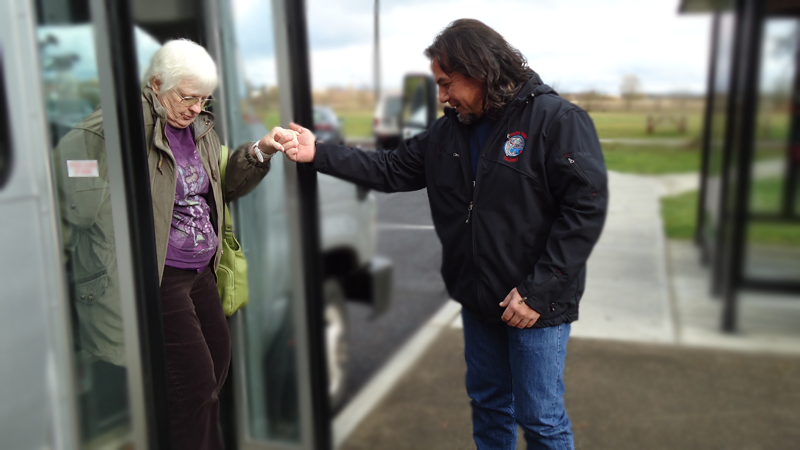 It is our mission to enhance the quality of life for Cowlitz tribal members, and the general public, through the delivery of professional, friendly, safe, reliable, and efficient transportation services.
Cowlitz Tribe Transit Service is a public transit service available to rural residents in South Lewis (Centralia Amtrak Station) and Cowlitz Counties who live up to 20 miles from the Interstate 5 corridor. Rides include access to life-sustaining and non-life-sustaining medical appointments, shopping, and cultural or quality-of-life activities.
Expanded Medical Transport Program is a public transport program available to rural residents in Clark, Cowlitz, and Lewis Counties who are over the age of 50 and/or individuals with disabilities. The Expanded Medical Transport Program provides rides north to Olympia and South to Vancouver to increase access to medical appointments such as; specialty medicine, diagnostic facilities, cancer treatment centers, and hospitals.

*Clark County residents must live outside of the C-Tran bus system and their respective Public Transportation Benefit Area (PTBA).
Tribal Medicaid Transport is for Indian Health Services (IHS) beneficiaries and their descendants who hold a current ProviderOne card and need transportation to medically necessary appointments. Individuals must live within a 60-mile radius of the Cowlitz Indian Tribe Health Clinic, meet the Medicaid criteria, and have exhausted all other transportation options.
All of the above services include door-to-door assistance to and from the vehicle when needed. Our vehicles are equipped with lifts to make boarding easier for passengers who use wheelchairs, or mobility devices, or have difficulty negotiating steps. Rides should be scheduled a few days in advance to assure availability. The dispatcher will make every effort to accommodate your requested trip schedule.
The Cowlitz Tribe Transit Service and Transport Programs comply with all federal requirements under the Title VI law, which prohibits discrimination on the basis of race, color, or national origin
FREQUENTLY ASKED QUESTIONS
Have questions about the program?
ClosuresCowlitz Tribe Transit Services will be closed on the following National and Tribally recognized Holidays:
New Year's Day
Martin Luther King Day
Cowlitz Tribal Day
Presidents Day
Memorial Day
Independence Day
Labor Day
Indian Day
Veterans Day
Thanks giving Day
Day After Thanks giving
Chrismas Eve
Christmas
The Americans with Disabilities Act (ADA) was signed into law on July 26, 1990. The ADA is civil rights legislation that requires and protects persons with disabilities from discrimination in the areas of employment, public accommodations, and the use of public transit services.
It is the policy of Cowlitz Tribe Transit Service that when viewed in their entirety; services, programs, and facilities, provided by Cowlitz Tribe Transit Service, directly or by acontracted service provider, are readily accessible and usable to individuals with disabilities to the maximum extent possible. 49. CFR 37.105.
The Cowlitz Tribe Transit Service is to ensure that passengers with disabilities receive service comparable to that provided to other passengers and that this service is provided with dignity and respect without compromising safety and security.
Holiday Closures
Cowlitz Tribe Transit Service will be closed on the following nationally recognized and tribally recognized holidays: New Year's Day, Martin Luther King Day, Cowlitz Tribal Day, Presidents Day, Memorial Day, Independence Day, Labor Day, Indian Day, Veterans Day, Thanksgiving Day, and Day after Thanksgiving, Christmas Eve and Christmas Day.
Approved Equipment
Cowlitz Tribe Transit can accommodate mobility devices that meet the following minimum standards:

The equipment must have 3 or more wheels.
Passengers will be transported provided the lift and vehicle can physically accommodate them unless doing so is inconsistent with legitimate safety requirements e.g the combined weight of the wheelchair/occupant exceeds that of the lift specifications.
Walkers must be collapsible and stored between seats and properly secured.
Equipment must be in good working order, with batteries charged, tires inflated, and all parts secure (49 CFR 37.3).
Segway (two-wheeled, gyroscopically stabilized, battery-powered personal transportation device.

Mobility Device Brakes
When occupying a lift or securement area it is recommended that passengers apply the brakes on their mobility devices; however, they are not required to do so. With power chairs or scooters it is recommended that the power switch be turned to the "off" position. Again, this is not mandatory.
Portable Oxygen Use
Individuals with disabilities who use portable oxygen devices are allowed to travel with respirators and properly secured portable oxygen supplies. Oxygen supplies must not obstruct the aisle (49 CFR 37.167(h)).
Securement Policy
Operators will use front and rear tie-downs to secure mobility devices. Operators will secure mobility devices at the strongest parts of the device; however, thepassenger can indicate the most optimal tie-down spot. The mobility device will be secured front-facing unless otherwise requested by the passenger. Drivers will assist passengers with securement systems, ramps, and seatbelts; however, drivers cannot assist riders using power chairs or scooters with the operation of their equipment. Cowlitz Tribe Transit Service cannot refuse a transport whose mobility device cannot be satisfactorily restrained unless the mobility device fits within the definition described in Section 3 (49 CFR 37.165).
Personal Care Attendants
A PCA is someone who travels with and helps a rider who is not able to travel alone. You must provide your own PCA if you need one. Please let dispatch know or when you fill out the rider registration form whether or not you will be using a PCA. This information will guarantee a place for him or her to ride with you. (49 CFR 37 d)
Service Animals
A service animal is any animal individually trained to work or perform tasks for an individual with a disability. In order to ride Cowlitz Tribe Transit Service:

The animal must be on a leash or in a container, remain under control of the owner and behave appropriately.
Birds, reptiles, amphibians, rodents and cats must be kept in an enclosed carrier/container.
The animal must remain at your feet or on your lap. It may not sit on a vehicle seat.
The animal must not be aggressive toward people or other animals.
You are responsible for any damage caused by the animal. (49 CFR 37.167 (d))

Boarding Assistance
Drivers shall position the bus to make boarding and de-boarding as easy as possible for everyone. Drivers shall provide assistance to passengers upon request. Passengers with disabilities shall be allowed adequate time to board and disembark the vehicle.
Maintenance of Lifts or Ramps
Drivers must test the lift or ramp during the pre-trip inspection. Break down of accessibility equipment must be reported immediately to dispatch. A vehicle with an inoperable lift or ramp must be removed from service as soon as possible and cannot be returned to service until repaired. If there is a lift or ramp failure a replacement vehicle must be dispatched(49.CFR 37.163)
Priority Seating
Upon request drivers shall ask, but not require, passengers to yield priority seating at the front of the bus to seniors and persons with disabilities. Drivers are not required to enforce the priority seating designation beyond making such a request.
Reserved Seating
Mobility device securement areas on buses are reserved. Passengers using common mobility aids shall be boarded if the securement areas are not otherwise occupied by a mobility device regardless of the number of passengers on the bus. Drivers are required to ask passengers sitting in the securement areas to move to other available seats.
Direct Threat
If a person is violent, seriously disruptive, or engaging in illegal conduct Cowlitz Tribe Transit may be consistent with established procedures for all riders, refuse to carry passenger. A person who poses asignificant risk to others may be excluded from services if reasonable modifications to the public accommodation's policies, practices, or procedures will not eliminate that risk(49CFR 37.5 & D/29 CFR 36.208).

Behaviors that may cause immediate exclusionfrom the system include:
Destruction of public property ( the vehicle, and/or its furnishings
Doing violence to others or to oneself
Behavior that is seriously unruly, disruptive, threatening, or frightening to others.
Behavior that is interferes with the safe operation of the vehicle.
Violations of service animal policy by failing to control one's service animal.
Violations of operating rules governing the provisions of transportation system-wide.
Engaging in illegal conduct.
Other conduct judged by Cowlitz Tribe Transit Service to represent an actual or potential threat to the health, safety or wellbeing of oneself, the driver, other passengers, and/or transit personnel.Passengers who exclude from the system due to direct threat have the ability to request an administrative appeal by contacting Cowlitz Tribe Transit Service at 360-232-858513.

Notification of Policy
Cowlitz Tribe Transit Service will notify the public of the ADA policy on the website and on the comment/complaint cards.
Paratransit
The Cowlitz Tribe Transit Service does not have eligibility requirements.a.Service Area: Cowlitz Tribe Transit Service is provided in designated service are defined by theFederal Transit Administration 49 CFR 37.131 (a)b.Origin to Destination Service: Cowlitz Tribe Transit Service provides door-to-door service49 CFR 37.129Trip Type Descriptionsi.Curb to Curb -Customer taken from curb of pickup to curb of destinationii.Door to Door -Customer taken from door of pickup point to door of destinationiii.Door Though Door -Customer taken from point of pickup into the door of the destinationc.Trip Scheduling: Cowlitz Tribe Transit Service is a Dial-A-Ride service.d.Trip Cancelation: Cowlitz Tribe Transit Service would like at least 24 notice.e.Paratransit Hours: Cowlitz Tribe Transit Service operates Monday through Friday 7:00 am to 6:00 pm. Office Hours are from 8:00 am to 4:30 pm.
Complaint Process
Cowlitz Tribe Transit Service is committed to providing safe, reliable and accessible transportation options for thecommunity. Cowlitz Tribe Transit Service has established a Customer Complaint Policy. Any customers wishing to file a complaint and/or obtain a copy of the Customer Complaint Policy may contact Cowlitz Tribe Transit Service at (360) 232-8585, or in personat Cowlitz Indian Tribe Dept. of Transportation office located at 1104 Hemlock Longview, WA.
Reasonable Modification
Request for modifications of Cowlitz Tribe Transit policies, practices, or procedures to accommodate an individual with a disability may be either in advance or at the time of transportation service. Cowlitz Tribe Transit is best able to address and accommodate a request when customers make their requests before the trip. Contact Cowlitz Tribe Transit office customer service for questions.
Our Locations
Longview Office
1003 Fir Street, Longview, WA 98632
Phone: (360) 232-8585
Email: transit@cowlitz.org
Office Hours: Monday-Friday, 8:00am to 4:30pm
Transit Service Hours: Monday-Friday, 8:00am to 6:00pm

Contact